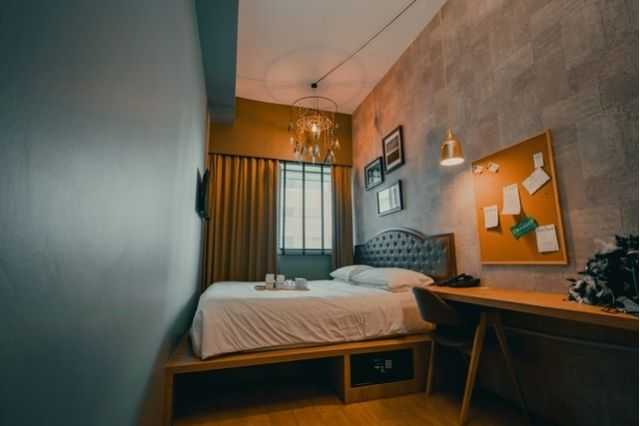 8 Small bedroom design tips and tricks
Are you looking for a small bedroom design? Do you find it difficult to make your small space look elegant?
Well, you are not the only one with a small bedroom in Bangladesh. These bedrooms have limited space, and it is hard to move around or design the room aesthetically.
However, if you apply some tricks and tips, it can look spacious and gorgeous. Apart from that, if you use the area properly, a small bedroom design can be better than a large one.
In a tiny bedroom, you need little money fourish the interior. Considering the cost of interior design, that should make you happy.
Use smart furniture
If you have a small bedroom, you have problems keeping your stuff here and there. In your room, there is little capacity to store things. It is likely to create clutter every day.
You have to use full-height cabinets to keep your stuff. Usually, cabinets are seven feet in height, but full-height cabinets touch the ceiling of the room. It gives you extra space to keep your belongings.
Similarly, use the area below the bed, replace your regular bed with box beds. You may have study tables which give you more space to keep your things.
If you like reading books and want a books shelf in the room, you can get a study table and a bookshelf combo furniture. It will save space and give you both functions.
Speaking of combo furniture, you can also use a sofa bed in your room. In most of the flats of Dhaka city, there isn't enough space to keep a sofa in the compact bedroom.
But a sofa can add so much value to your small bedroom interior design. If you get a settee combined bedroom, it will make your room look sophisticated throughout the day. At night, it can convert into a relaxing bed.
Change to wall-mounted lightings
The first step for interior design is limited spaces is to change everything to wall mounted. If you had table lamps before, modify them to wall-mounted table lamps.
Install them on both sides of the bed to make sure there is enough light in the area. You will find this idea in many bedroom designs.
What you need to do is choose your wall lights wisely. Make sure that your lamp design is elegant and suits your furniture and wall design.
You will have to ensure in every step that one interior design object complements the other in the room. Internet is your best friend in finding the latest interior designs. Search a bit online and get your hand in one of the gracious lamps available at the shop.
Convert to wall-mounted furniture
Apart from the lightings wall mounted furniture is also a space-saving idea. Depending on how much room you have, you can select the study table and dressing tables wisely.
You will find study stables that can be attached to the wall. Although, this idea depends on what you keep on the study table. If you put heavy books and desktop PC, do not go for this concept.
In the same way, use wall-mounted dressing tables in your small bedroom. Apart from that, all you need is to add a stylish stool for sitting in front of the table. A plane mirror with warm lights will change your small bedroom design entirely.
Arrange the room utilize maximum space
How you organize your small bedroom can play a vital role in the available space. When you are setting the furniture, you will find some arrangements provide more room than the other.
So, properly aligning the furniture is essential. You need to ensure there is enough clearance for movement and every piece is accessible.
While you are at it, do not block the electric switches. Make sure that you can reach them with ease. In any case, if the furniture obstructs it, you can pierce a small hole on them to make it accessible.
Use space wisely
In a small bedroom interior design, you have to use space sensibly. Usually, in Bangladesh, columns waste a lot of space.
Beams can ruin the appeal of the interior design. So, you have to utilize them correctly to enhance your room's interior.
You can install shelves right below the beams to cover them in your bedroom interior. It can hold decorations, books, lamps, clocks, and more.
What you want to keep in your room depends on you. But if you have beams running through, it can help you hide the area and make it look pleasant.
If you have a cabinet top free, you can use it to keep accessories as well. Sometimes the window sill provides some space in the interior. Similarly, use them to enhance the room.
Focus on the aesthetics
After saving spaces, it is the time your focus on small bedroom design. Now you should think about making your room attractive to the viewers.
Generally, an interior designer uses wall panels and lights to make a room elegant. However, board installations can also take up some space, so think about it before going for this step.
If you can't afford wall panels, there are more options for small bedroom interior design. One of them is using fine wallpapers.
You will find various wallpaper designs in the market. Before selecting one, think about all the facades of your interior.
In interior design, one wall should be the main attraction. You can make it appealing with wall paint, handing paintings, or wallpapers.
On the internet, you will find wall painting ideas. You can select and apply one of them to make the wall stand out from the rest.
Use the column corners
In most of the houses, the columns leave a narrow space beside them. You cannot place furniture properly because of this.
To save this area, you can customize furniture or add shelves for storage. You can also use corner wardrobe for small bedroom. It can be a storage solution for small bedroom designs.
Make sure the scale is accurate
Scale can affect how your room looks. If you have many furniture in a small space, it is disturbing to the eyes. A bedroom is a relaxing place.
So, it should be pleasant to the eye of the viewers. Keep little furniture in the bedroom and leave open space. It charms the eyes of the spectators. Only keep pieces in the small bedroom that you think are necessary.
Conclusion
These are some of the points of a small bedroom design. We shared the vital facts we thought were necessary for the interior design.
However, only an interior designer can tell the best solution for a small bedroom interior. Every space is unique, and they have a different answer.
We tried our best to discuss all the possibilities so that our blog is enough to help you out. If you are still facing problems, contact a professional for help.