Basics of Home office interior design
Because of COVID-19, the concept of work from home grew and over the years people are interested in home office interior design so that they can comfortably work in their homes. It is quite challenging to build a workstation at your own house. With the right ideas and materials, you can bring out a modern look for your home office interior design.
Fix a spot
No matter what your work type is you should always pick a nice, quiet, and comfortable spot for your office room design. There should be sunlight and enough space to keep the necessary elements.
Build furniture
Now, when it comes to designing home office furniture you should always go for functional furniture. Choosing the right desk for your office room design is vital. The desk creates the first impression of your office. In addition, the desk should be functional, and it should have enough space.
Comfortable sitting
It is very essential to have a comfortable sitting arrangement for your home office. As you will work long hours, a perfect sitting position is essential. Build or buy a chair that is comfortable and cozy.
Blend the office with home
As you are working at your home the interior design of your home office should have a match your home interior. In small houses sometimes people tend to build their home office in their bedroom or the dining room.
Lighting is important
As you will be working on your home office space you should install enough lighting. Natural light is important but despite going for conventional lighting you can install some spotlights. Moreover, you can also focus on putting direct and indirect lighting to give the space a modern look.
Use empty spaces
When you want to build a modern home office always keep in mind to use the space. That will bring efficiency to your design. How? By building cabinets and shelves to keep the necessary equipment.
Add art piece
Although it is a home office, it doesn't mean it should be a traditional space. You can put different artworks on the wall to give it an aesthetic look. It is also important to match the artwork according to your work type.
Utilize unnecessary space
There are some spaces that you don't use for anything. These spaces are good for your home office interior design. There are several unique spaces that you can use for your office room design such as some corners of your dining room or some space in your guest room.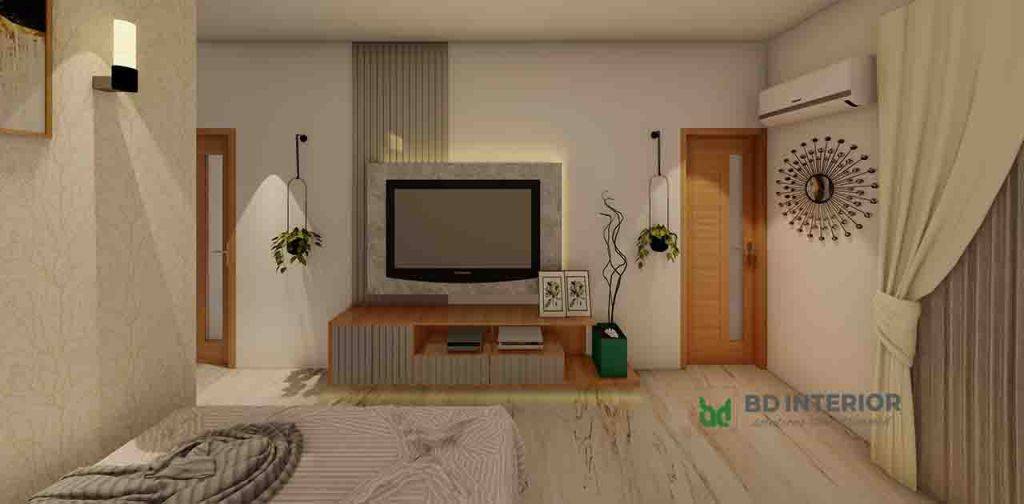 Collaborate with other elements
It means you can add your home office with other features of your home. For instance, you can add your workstation to your study room. Even you can build an entire workstation under your TV panel. Even if you have less space, you can design your home workstation in your bedroom.
Design by your need
Home office interior design is a challenging thing, however, at first, you need to identify what do you need for work. Like, some remote job just requires a laptop or desktop. On the other hand, some jobs require paper works. It is very crucial to know how much space and storage facility you need for this job.
Go for simple
The simple home office interior is very attractive. In addition, you will require fewer materials and the cost will be minimized. However, it is more logical to use simple designs if you have a small space. A simple design can also be a preferable option if you do not have any dedicated space for home office interior design.
Use the window space
You might use the space of your window `to build your home office interior design. This idea will help you in many ways, first, it will give you natural lighting. Secondly, you will utilize the space of your window perfectly.
Color your work home office
Always go for vibrant modern color for your office room design
. Make sure you put bright colors so that you get enough light on your workspace. Don't go for bold color because it will not go with the office environment. In this case, white and grey is the best option for your home office interior design.
Add classic tone
You can add a classic tone to your home office interior design. Install classy furniture and add a desk of high-quality materials. It should embrace your working environment and enhance your productivity.
Organize everything
Although you have minimum space to work with for your home office interior design it is very important to organize everything. For example, you should identify where will be the computer or laptop. It is also important to set up cable in a strategic way.
Make it modern
If you want to give your home office interior design a modern look it is a common option to add some art to the walls of your home office space. In addition, you can add modern furniture.
Use the corners
You can use the corners of your house for home office interior design. The corners of your home are mostly unused. If you have less space in your house, you can use a corner of your home for home office interior decoration.
Go for luxury
If you have enough budget for your home office interior design, you can add luxury to your home office space. You can add marble to your desk and some lighting. If you have visitors in your home office, you could add a sofa for the guests.
If you want to build a workstation for two people you need a bigger space. You can either build two desks or build a desk for two. Build enough space for two. A wall-mounted desk with cabinets on the bottom and open shelves is the best option for a double home office.
It is very necessary to know what your work type is before you go for home office interior design. How much space do you need? and where to put the furniture? should be addressed first. Then you can go for your creativity to design your home office.