THAT'S HOW WE GOT HERE!
We are pleased to introduce ourselves as one of the best Interior Design company in Bangladesh. BD INTERIOR is a full-service interior decoration company in Dhaka, Bangladesh, since 2010, specializing in residential and commercial projects.
We handed over many prestigious projects all over the country, mainly in Dhaka (Gulshan, Uttara, Dhanmondi, Banani, Mohammadpur, Wari, and so many prestigious areas), Chittagong, Sylhet, Khulna, Rajshahi, Barishal, Coxbazar.
BD INTERIOR has the technical capabilities to achieve the highest level of works with "turn-key" Projects through our services offered. Our Experienced and Skilled Architects, Interior Designers, and Engineers successfully participate in every project from the initial concept fixing to handover, maintaining precision & professionalism to make sure the project runs smoothly and try to give the clients top-level satisfaction.
Prepare Furniture and Interior Design, decorative materials and items selection, Budgeting, Detail Working Drawing Preparation, project coordination, and Supervision) – As an Interior design Company, BD interior has earned a well-deserved reputation for its track record in implementing and completing the top quality project in time and with customer satisfaction.
Our expert Team is always ready:
Our Practical Projects work is managed by very experienced engineers and supervisors and a strong, skilled workforce like civil experts, Skilled Carpenters, Electrical & Glass Technician, Painter, and Fabrication Expert.
We are committed to performing modern contemporary interior design and give the Client the best value.
Using the Proper material and skilled workmanship to create space livable towards timely and quality consciousness. Looking forward to construing our services for a long and faithful relationship with you.
Our Values

1.Honesty
2.Passion
3.Innovation
4.Teamwork
5.Relationship
6.Non-compromising Quality
7.Sustainability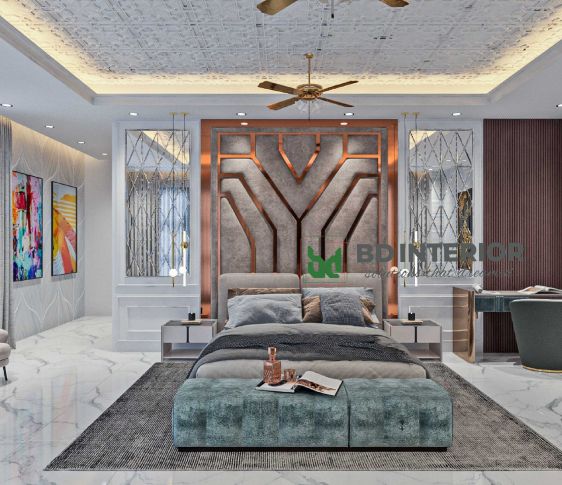 Service We offer:

Home Interior Design: Looking for a best Residence Interior Designer? BD interior is the right choice for your home interior design solution. We provide modern design within an affordable budget. In a home, we give the complete package solution or partial part of a home.
Areas of Home Interior design are Master Bed Room, Child Bed Room, Kitchen, Living, Drawing, Foyer, Dining Space, or Toilet.
/
When you think about home interior design company in Bangladesh, the following items should be considered in mind:

Ceiling Design, Wall Paneling, TV Unit, Study Unit, Kitchen Cabinet, Wall Cabinet, Dressing Unit, Study Unit, Color Scream, Lighting, Electrical, Flooring and Curtain Design.
Nowadays, a modern corporate office interior design is essential to reach the company goal at the next level. A good office interior design can increase the Brand image and help raise employee satisfaction resulting in productivity growth.
BD Interior is ready to give service of the best office interior design as requirements of clients. Our skilled and experienced Team will provide you with a space solution with an excellent look office with a reasonable budget.
We cannot think of a restaurant without a Restaurant Interior Design Company. A professional Interior Designer can properly utilize the space and make an attractive restaurant that makes a happy smile.
We are well expert in various restaurant interior designs such as Roof Top Restaurant, small café House, Chinese Restaurant, Fast Food.
Our showroom interior design ideas will maximize space utilization and attract customers. Our very professional Architects and Design team embraces expertise in creating exceptional thematic showroom outlet interior designs to help you boost your business in a very short time. Not only optimizing your space, but we will also focus on practical ways to display your products. The unique designs and modern, stylish Showroom will work like a magnet and attract potential clients.
We are well known for Hotel interior design in Bangladesh. We have completed many Luxurious Hotel interiors in Dhaka, Chittagong, and Coxbazar.
Our intelligent hotel interior Designers work hard to give you the best possible service. We also offer Service of Resort and Eco Resort interior design service and practical work execution.
BD Interior is the top Landscaping design company in Bangladesh. We provide wide-ranging and complete design services of Landscaping all over the country. Our highly talented and dedicated Landscaping designer could make your dream true, and we promise to create mind-blowing Landscape designs stunningly.
We will give services regarding Landscaping at Resort, Eco-Resort, Roof Top Gardening Lawn area Design, Factory Landscaping, Corporate office indoor and Outdoor Landscaping, Home gardening.We also provide services regarding Indoor Plant, Fountain design, and Outdoor beatification.
/
Our Working process with our honorable Clients:
Welcome Meeting:

First of all, we invite our Client to our Office, if it is not possible from them, we will visit our Client and welcome each other. Then maintain the following steps:
1. Consultation and questionnaire.
2. Identify clients' needs and purposes, Organizational structures, and cross-functional relationships
Space Measurement:
Our Expertise Team visits the proposed site, takes space measurement, and takes photos and videos. And discuss the requirements of the projects for start design. We consult with the Client to solve the problem physically.
The first time we submit a 2D Layout design. Materials suggestions to work within the environment, lighting solutions to work with the design, enhancing the final layout Specialized areas
Then we submit them 3D Renderings and designs that give an idea of the look and feel of the new Look of Spaces.
The Design presentation consists of a personalized design proposal with a sample board and budgetary costs.
Planning Phase:

After Finalized the Design, then we prepare BOQ for the implementation of the project. If the project is finalized, then we prepare Derails Working Drawing – Architectural, Structural, Electrical, and Plumbing and also need basis.
Project Implementation and Construction:

Then we procure the best possible Materials and supplies for the project
Workforce and Supervisor Team Setup.
Each phase of the construction is monitored, ensuring that the Client is kept informed and up to date at all times.
Handover:
Then the happy moment for our Client – handover time. The project is ready, and the Client takes handover with satisfaction within the allowed time.
Complete and Handover the Decorated Project to the Client with satisfaction.
We try to keep our clients happy all the time. We give free service within a specified time and also provide long-term service on a cost basis.
/
 Why BD Interior is the Best Interior Design Company in Bangladesh:
Well Experienced
With over a long time of experience inside the enterprise & energetic group, we bring many of the best and accurate interiors to suit the Client's needs. The professional expertise helps to deliver blended with industry quality practices. That is the first reason for choosing BD INTERIOR.
Creative & innovative mined people:
We have many creative and innovative people who are always shown the creativity of their designs and works. We provide a unique and effective plan for all of our projects.
Quality Materials sourcing:

We never compromise about quality. Our expert procurement team purchases the best possible materials from the market.
Value for Money:
You don't need to run here and there to construct your project. We provide all types of service – design phase to project handover phase. Just connect us – We are ready to serve you anytime, anywhere.
On-Time project handover:
We are committed to timely handover of the project; that's why our honorable cannot face the problem and maintain their plan.
One-stop service:
We discuss with clients in advance any changes and modifications. We're devoted to offering value for money.
Guarantee and Warranty:
We BD INTERIOR takes pride in work and commitment. We guarantee what we build. For this reason, our clients are always fully tension-free. That's why we are confident that we are the top interior design company in Bangladesh.
CALL NOW FOR YOUR DREAM INTO REALITY