Modern Conference room interior design ideas in 2022
Conference room is the core part of an office. Conference room usually stands at the last remaining part of an office for a private productive meeting. Conference room interior design in Bangladesh is critical. You should consider following things to make a productive conference room design.
Divide conference room in proper way
If you start design your conference room part by part, it will provide a good outcome for your design execution. Here is the common part of a perfect conference room to execute the concept.
If you start design your conference room part by part, it will provide a good outcome for your design execution. Here is the common part of a perfect conference room to execute the concept.
2. Team Room:
A Team room is much larger than the calling booth. It might be an effective place for a team consists of 6-8 members in an office. Generally an office consist of various teams/ departments, such as marketing team, technical team, Field workers, finance team any more. Every team has some specific role to play for their company and they need some discussion to achieve their goal. A team room can be perfect place for small group discussion. A team room usually consists of some flexible chairs, a round table and some technical equipment to support their discussion, such as projector, white board and teleconferencing equipment. You need a proper planning to develop a team room for a better conference room interior design.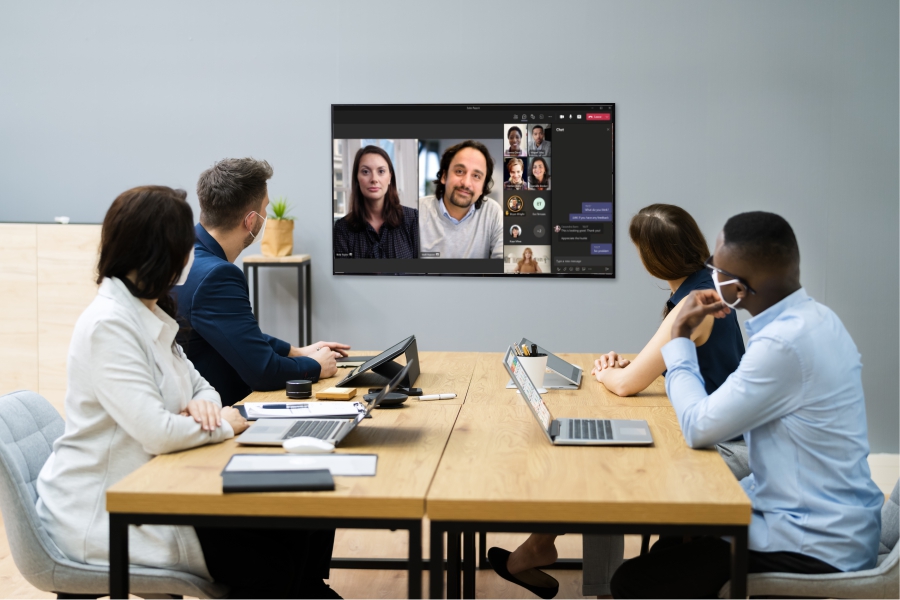 3. Meeting Room:
The meeting room usually designed for events, board meetings, client meeting, company get-togethers and other activities of an office. The meeting room is the main part of a conference room, usually made for 15-30+ people depending on company sizes.
Meeting room is usually used for long time meeting. Because the meeting is all about company success, failure and company future. If company fails to achieve its goal, members try to find out the problems and try to solve the problems with their bosses. So meeting room needs to be proper furnished and as well as strong technical supports such as c.c t.v camera, white board, large projector etc. It would have been helpful for members if there is proper arrangement of snacks and caffeine to continue the whole meeting with full energy.
You should have proper idea about these following points before start a conference room interior design.
1. Clear concept of technology requirement:
We cannot think of a modern conference room interior design without technology. Before start a conference room interior design you should have proper idea about technology requirements. Suppose you are dealing with a foreign client, You need a large monitor, projector, computer to communicate with them. Each every technology related products need much cable, which should be mentioned on your 3d design. The following equipment must be installed on a conference room interior design.
Audio and video
Audio and video input/output device is much more important for a conference room. You need a proper support of audio and video support for effective collaboration in conference room. You must have proper arrangement of microphone and speakers that cover every inches of a conference room. Video output technology such as monitor, projector much needed for video conferencing and presentation. It should be placed such in a perfect place, so that everybody can see each and every points very clearly.
Whiteboard:
Whiteboard now a days a common way to communicate and present something to remote clients and employee. Every team member can share a common white board and visualize everything what is one their mind instantly. It enhances the effectiveness of online meeting
2. Furniture Installment:
Furniture should be installed considering the conference room size. As the conference room is usually used for large number of people and need much more time, Furniture's like sitting chair, table should be placed in a such way that member attending to the conference room got proper way to relaxed themselves. And most importantly sitting chair must be comfortable.
3. Proper arrangement of lighting
Lighting is very important in a conference room. suppose you are showing a presentation to the members/ clients with full force of light, the ray of light reflects the screen of the projector, It will be annoying to the member present in the conference room. So use dim light while showing a presentation or video. You must have installed 3 types light during a conference room interior design and use them depending on situation.
4. Think about Colors
Everybody has brand color of their own. Try to decorate your conference room with such color which reflects your brand. It create positive impacts to the clients and as well as to the office member. You can use the color theory while working on color in conference room interior design, Such as blue color reflects sign of the calmness. While bold color can bring positive energies to the participants. While dark color and woods makes your conference room more classy.
5. Maintain open space:
Crowded room bring unnecessary pressure and make the environments uncomfortable for the participants. That's why some people leave the meetings and some feel so uneasy. That's not good at all because you some time you need people to be more relaxed and attentive towards the meeting.
False celling is must for a conference room interior design. The false celling is the second roof after the original. It will hide the dull part like beam, various wire of conference room. And make your conference room more appealing. If we install light on a false celling it will minimize the lighting cost in a conference room.
If you can execute the each and every part properly, you will able to make your conference room interior design more relaxed and productive.