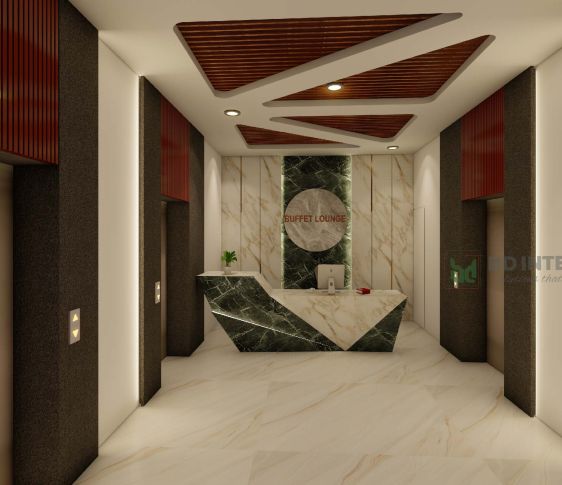 Restaurant Interior Design in Bangladesh
BD INTERIOR is an interior design company in Dhaka, Bangladesh. We provide restaurant interior design in Bangladesh services.
You can hire us from restaurant interior design, coffee shop interior design, small cafe interior design, juice bar interior design, ice cream bar design, Chinese restaurant interior design, fast food interior design, and more.
A restaurant interior design is different from home interior design or office interior design. The kitchen is the heart of this space. If you want a functional restaurant for business, a decent kitchen is a must.
The kitchen must have enough countertop and ovens for multiple chefs. Additionally, the dishes should enter from one end while the food should exit from the other end of the kitchen. The circular, clearance, and arrangement of the kitchen determine how many people it can serve altogether.
What happens if you don't hire BD INTERIOR for restaurant interior design?
You have an unplanned restaurant interior design
All spaces need proper planning for them to be pleasing. If you don't hire an interior designer, the room can be disturbing. There may not be enough clearance and space to use the furniture and enjoy the restaurant.
The restaurant is a hospitality business. Here entertaining the guests is the topmost priority. If the customers cannot sit properly or feels uncomfortable in the restaurant, they won't visit it often.
How many times a guest visits your restaurant affects your business directly. Hence you have to do everything to keep them pleased in your restaurant interior space.
The comfort comes from restaurant interior design. An interior designer from BD INTERIOR thinks about the lighting, accent wall, sound reflection, temperature, and more to please the guests in a restaurant.
The color and texture of the interior don't match
If you don't hire an interior designer, it will be tough to match the colors and texture of the restaurant interior design. You may end up choosing a wallpaper that does not fit your restaurant.
In that case, you will have to get the wallpaper off again and find a new design. Taking the wallpaper off can cost money as well as damage the facade in the process.
Overall, you need a pay a lot more if you don't hire an interior designer for the job. The mismatch in the interior designer can lower the interests of your guests to visit your restaurant.
Finding the materials for the interior design can be tough
In interior design for a restaurant, you may select unique textures. However, when you are searching for materials for this texture, you might get into trouble.
First of all, whether the material is low or high quality, they look the same. Secondly, you might not know where you can find the particular material.
All these factors make interior design time-consuming. Therefore, you need to contact an interior design company that has a large texture library.
Getting a team for the project
An interior design is a group project. It needs plumbers, carpenters, engineers working on the project together. If there is lacking one of these professionals, it will delay your project.
If one is not working on the project well, another will face problems proceeding with work. Hence a good team is mandatory for a restaurant interior design project.
Finding people who are willing to work with care, determination and skills can be challenging. Hiring an interior design company ensures that you have a team of professionals working on your project.
What type of services does BD INTERIOR provide for restaurant interior design?
BD INTERIOR provides a plan for restaurant interior design
The restaurant interior design needs a proper plan for the furniture layout. A restaurant is a relaxing place.
The plan layout must be creative to make it exciting. Different ideas attract customers and keep them coming back to the restaurant.
Apart from that, the kitchen design is crucial for the best service in a restaurant. It needs a decent kitchen with a pantry and cooking area so you can serve food faster. The clearance and traffic of the kitchen are vital for good service in a restaurant.
Our interior designers at BD INTERIOR are well aware of these factors. We will design a restaurant that will attract customers, promote your business and keep them coming back for more in the restaurant.
Our interior designers provide aesthetic designs for your restaurant interior
Planning a space and interior design are two different things. The plan depends on reasoning to use a room comfortably. However, interior designing is thinking of the color, texture, and feel of the room.
In interior design, every component is well thought of to suit the room and uplift the atmosphere. There should be a link between every piece.
If there is any mistake in this, your restaurant interior design in Bangladesh will not look pleasing. Our interior designers know how to design accent walls, lightings, ceiling designs, furniture selection, etc.
Your restaurant design will look like an art piece once we are done with it. Of course, your budget plays a vital role in this matter. However, we will make sure that it attracts guests and boosts your business.
BD INTERIOR has a large library for restaurant interior design in Bangladesh 
Interior design is like the fashion industry. It keeps changing. There is always something new in it. You need to research and stay updated with the recent trends.
A good interior design company needs a vast collection of textures and colors. It allows our interior designers to be creative and design something unique.
BD INTERIOR is continuously researching new materials. We have an enormous library of texture collections. Apart from that, if you like any texture and want to apply it to the interior design, we will collect it and make sure it comes with high-quality material.
So, your restaurant interior design will last for years to come. If you want quality materials for interior design, contact BD INTERIOR for interior design services.
BD INTERIOR has an expert interior design team
A restaurant interior design needs a lot of people to work together and build the project. You will need good electricians, plumbers, contractors, engineers, interior designers, architects, etc.
Finding these experts can be hard. However, BD INTERIOR has been designing restaurants since the year 2010. Over the years, we have met many experts in these fields.
Our company has skilled employees for every area of interior design. Hence if you hire us, you know some of the best professionals are working on your restaurant interior design in Bangladesh project.