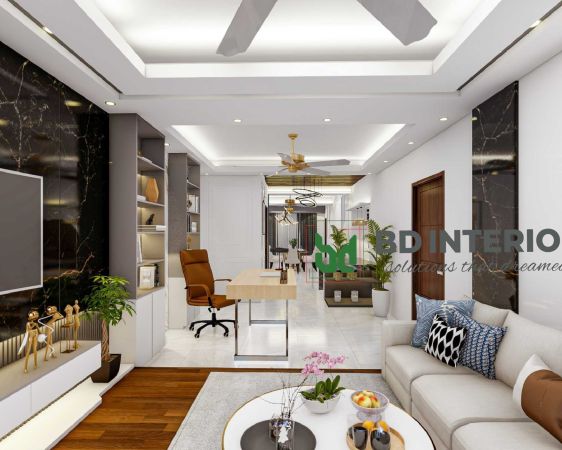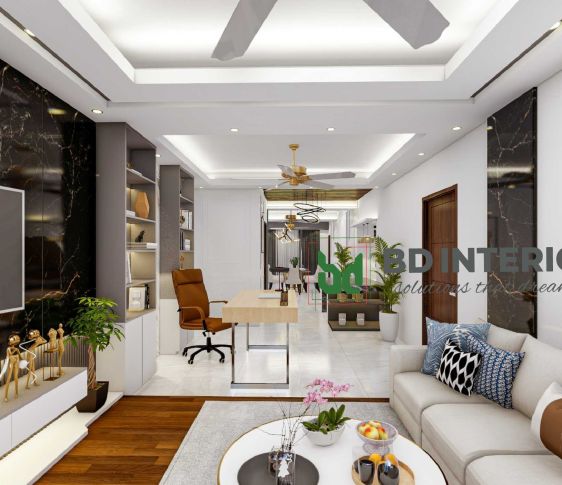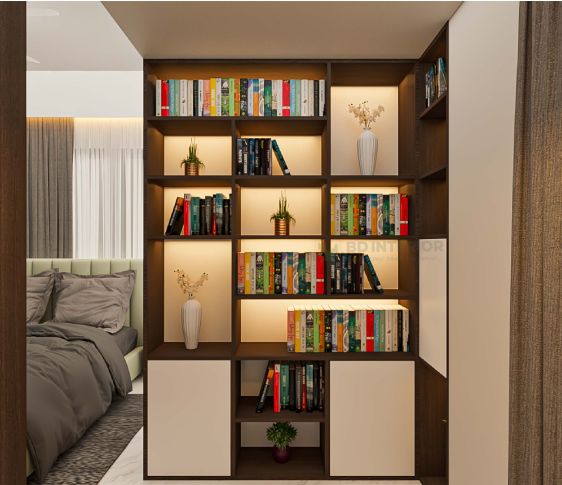 Residence Interior  Design
BD INTERIOR is a home interior design company in Dhaka, Bangladesh mainly focused on Residence interior design or home interior design. We started our journey in the year 2010 and finished many prestigious residential projects until now.
Every client has a different need. Hence their home interior design is unique as well. When we design, we keep your personality in mind while working on a project.
Here in BD INTERIOR, we work hard to bring our client's dreams into a reality. You may think you want to do the interior design yourself. Sure you can. However, if you do it yourself, we should warn you about the problems you could face.
What happens when you don't hire an interior designer?
First of all, without an interior designer, your design will proceed in a disorganized manner. An interior designer is aware of the minimum furniture size and clearance to use them.
If you do it yourself, you are likely to make many mistakes. Apart from that, these arrangements can affect your psychology. No one wants to walk around a room where you hit your toenails again and again.
An interior designer understands the space requirements. They are trained professionals who understand how to uplift a room's interior design. They can avoid these problems and make your life more comfortable.
An interior designer has trained eyes for texture and color selection. They are also aware of color psychology. How do different colors affect your room, and what color is suitable for your bedroom.
Hence they can decide on wall color, wallpaper, and accent wall designs faster than you. At first, you need to study the science behind the color and textures of the living room.
The worst possible scenario in this matter is choosing a color that does not look good in the end. It means you paid for something you don't like. You can keep the wall color as it is, dissatisfied with your living room, or try another color and see if you like it this time.
The same is true for the interior design of every room. You may buy materials and apply a design, but in the end, it might not suit your space.
The worst possible scenario in this matter is choosing a color that does not look good in the end. It means you paid for something you don't like. You can keep the wall color as it is, dissatisfied with your living room, or try another color and see if you like it this time.
An interior designer can visualize these aspects faster. They are skilled in this matter. Hence, such a situation never occurs if you hire BD INTERIOR.
e have interior designers who understand the application of colors and textures. So, there is no wastage of money trying various colors on the wall again and again.
Material collection
If you want to apply board panels or attractive lights to the interior design. You have to consult with the light fixture and board panel providers.
First of all, an interior designer has a vast collection of textures, paints, wallpapers, etc. They know where to collect any particular material at the best quality.
As they are linked with these people, they can get these services at a lower cost. When you like a particular texture, you have to find someone with that texture.
Apart from these, you may find the texture in poor-quality materials. It means your furniture will last for a few months. On the other hand, if you are working with an interior designer from BD INTERIOR, he knows where to get the best materials from the market.
Furniture from BD INTERIOR will last for years. We have connections to top-quality material providers in the market.
Getting qualified team for residential interior design
A residence interior design requires many people to work together and work as a team. You will need good electricians, plumbers, contractors, carpenters, engineers working on the team.
So, you will need to collect all these people and make your team. At the same time, you have to make sure they are qualified for the job.
On top of that, the team should work together in harmony to build the project. Otherwise, it will affect your residence's interior design. Finding such a team without the help of an interior design company is extremely rare.
You can hire BD INTERIOR for the matter. We have qualified interior designers, architects, engineers, contractors, plumbers, carpenters, electricians, and others to work on your project.
What services does BD INTERIOR provide?
BD INTERIOR provides services for residence interior design. Up until now, BD INTERIOR completed many successful residential projects in and out of Dhaka.
We have designed many Duplex building designs, flat interior designs, and more. We also accept design projects for a particular room, like the living room interior design, bedroom interior design, drawing room interior design, dining room interior design, child bedroom interior design, Master bed interior design.
What services does BD INTERIOR provide?
You can also hire us, particularly for kitchen interior design. We design and install kitchen cabinets of various types. From BD INTERIOR, you can take customer kitchen cabinet design, particularly for your home. We provide kitchen cabinet designs of diverse materials and textures.
BD INTERIOR always provides high-quality materials from furniture. All our furniture is AA-grade materials that will last long in your kitchen. We provide furniture with plywood, MDF, HDF board, metallic materials, and more. If you have any particular texture in your mind, you can share it with us. We will prepare furniture with that texture in the best quality materials available.
Apart from that, some kitchen cabinets may require tall cabinets, while others can do without it. Every kitchen has different requirements. We understand that and design kitchen cabinets accordingly. In the same way, you can get custom-made furniture from BD INTERIOR.
How does BD INTERIOR deal with projects?
We have qualified architects who can design room interior and furniture the way you need. Our solutions are logical and based on your requirements. We also consider your budget for interior design before we get into the design details.
An interior design can be luxurious and expensive. On the other hand, it could be simple, elegant, and neat. Your budget can set the type of design you can have for your room interior design.
How do we select and collect materials for Interior design?
BD INTERIOR has skilled interior designers and architects who work on projects to make our client's dreams a reality. We have a huge collection of textures in our library.
Along with that, we are researching to keep up with the latest trends in interior design. We have connections to resources to provide us with the texture suitable for your residence's interior design.
At first, we understand your style and design the space as you want it to be. Then we contact our resources to supply us with the materials.
As we are experienced in this field, we find the best materials for your home interior design. Then our professional workers team up together to complete the residential interior design project.
BD INTERIOR team is a qualified team for residence interior design. You may hire us for the best interior design service all over Bangladesh.