BD INTERIOR has skilled and dedicated interior designers specialized in home interior design services. Home is where we spend so much time is the visual background to our busy lives to relax and entertain. We specify in private client small residential projects, luxury apartments, and Duplex Villa in Bangladesh Since 2010.
We are here to provide friendly, amicable, and luxury interior design services for residential properties. We offer personalized interior decoration services and ensure quality and artistry.
There are various factors to home interior design in Bangladesh. The bedrooms should be separate in privacy, while the living room and dining room should welcome the guests. There are many styles for a living room interior design. It depends on the clients how we design it for you.
Some clients want to make the living room gorgeous, while others wish the dining room. Many clients desire the bedroom to be the most exciting space in the house. It all depends on the client how he wants it to be.
If you are looking for a luxury home interior design in Bangladesh, we can install board panels, fancy chandeliers with drop ceilings, air conditioning units, and more.
On the other hand, if you are looking for interior design with a small budget, we can adjust accordingly and still provide you with an elegant interior design. In such a case, we will switch to exposed ceiling interior design ideas. We can create the accent wall with wall paints and hang paintings on the rest of the wall.
Our home interior design method will depend on your budget and your taste. You may already know there are various types of interior design. It can be modern, traditional, cultural, etc. Of course, there are different types of interior design worldwide, but these three are the common ones in Bangladesh. In any case, if you want a unique interior design, we are here to help you out.
/
World-class Residence Interior
BD INTERIOR has qualified and committed interior designers specialized in the best home interior design services. We are dedicated to providing unique, enlightened, and creative interior design services as per the expectations and requirements of our clients.
We are here to give friendly, approachable, and luxury interior design services for residential projects. We get an ever-increasing success rate in this competitive area as we provide the customized interior design services and ensure quality workmanship.
Our residential interior design company provides customized services in four stages:
1. Concept Prepare
2. Design development (2D Plan and 3D Visualization)
3. BOQ Prepare and Materials Selection
4. Project Implementation.
We work closely with our clients at every step of the home interior design project. We also encourage our clients to get involved in the project anytime if he/ she wants. We get feedback from our honorable clients and make positive changes in our design and services to better projects.
We have more than ten years of experience in the interior design sector. We focus on some essential things to provide the competitive price of the customized service to every client.
We are the modern home interior design company in Bangladesh. We will give you the best assistance and service as per your expectations and requirements within the budget and time frame. You also can contact us and discuss how to make the interior of your residence functional and attractive at the same time. We make our clients happy and satisfied with our best effort.
/
Areas of Home Interior design are:
Master Bed Room:
One of the most imported home spaces is Master Bed Room which should be considered when you think about interior decoration. Not only increase beauty but also for essential requirement fulfilment, Master Bed Room interior design is very much important.
The master bedroom is the large bedroom of the house. It consists of an attached bathroom with a balcony.
We can add an accent wall in one of the facades of the room. A home interior design in Bangladesh depends on your budget. The application of board panels with various patterns can make it a high-end interior design. We can use wall paint and wall surface exposure to finish the design on a limited budget.
Apart from that, using false ceiling, spotlights, strip lights, panels lights are also an option for the Master bed interior design.
Basic requirements of a Master Bedroom Interior Design:Attractive Bed, Wall Cabinet, Dressing Table, Color, Lightings, Flooring, and Curtain
For Luxury looks and feel should be added the following items:Wooden Ceiling, Wall Paneling, TV cabinets, and Indoor Green.
Child Bed Room:
If you have children, then Child Bed Room Interior design is mandatory. In terms of the Kid's room, design should be considered the child Age, Gender, Taste, etc.
Basic requirements of a Child Bedroom Interior Design:
Beautiful Bed, Study Unit, Wall Cabinet, Dressing Table, Painting, Lightings, Flooring, and Curtain
You should add Luxury looks and feel
Wooden Ceiling, Wall Paneling/ Sticker Print, and Indoor Green.
The child's bedroom design depends on the age of the child. If the child is five to ten years old, we can make the interior design playful.In such cases, the bed can be custom-made into a slipper. There can be small swings in the room with the application of many bright colors of facades.
Similarly, for a teenager, we can apply shelves to hold magazines and study books. There could be a study table and bookshelf combo furniture. If it is a female dressing table, there can be a dressing table. So, the idea depends on the user of the space.
Kitchen Cabinet:
If you have no budget for Interior Decoration purposes, you cannot avoid making a Kitchen Cabinet. Materials selection is the most vital part of Kitchen Cabinet Design. Here should be used water resist Board like PVC Boards, Acrylic Pasted Board.
The kitchen is the heart of your home. Your family's health depends on the kitchen. The kitchen is the most active part of the house. It must have separate zones for each type of activity.
The kitchen is also the place that gets dirty fast. Hence, we have to design the kitchen with these factors.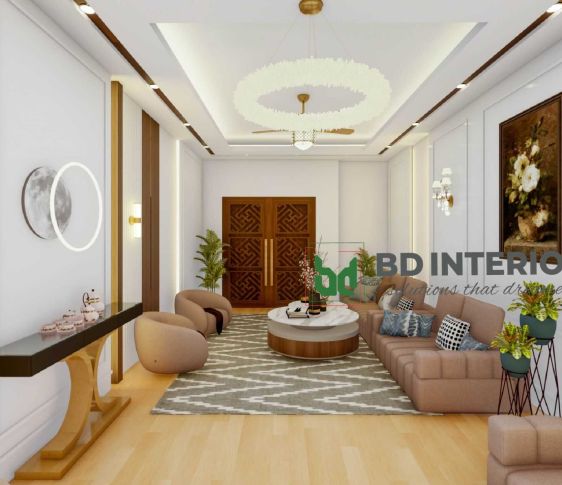 Living/ Drawing Room Interior Design:
A living room should be the most attractive interior design in a home. Design should be gorgeous than other spaces of an apartment.
Requirements of a Drawing room Interior Design:
Gorgeous sofa set, Showpiece Cabinet, Painting, Lightings, Flooring, Curtain, Wooden Ceiling, Wall Paneling, and Indoor Green.
The drawing room is a place where guests often visit. Hence it must be elegant. We can add board panels, fancy lights, wall paints, hanging paintings to enhance this space. A luxurious sofa fits in well in this room.
Dining Space
Dining space is also an essential part of a home regarding interior design.
Requirements of a dining room Interior Design:
Lovely Dining Table, Dinner Wagon, Color, Lightings, Flooring, Curtain, Wooden Ceiling, Wall Paneling, and Indoor Green.
It is a semi-public room where the dining table is the main focus. Some beautiful hanging lights with wall decorations fit in well in this room. However, there must be plenty of decorations like trophies, photos, or other memorable items, that strike conversation in the room.
/
Recommended materials for Home Interior Design :
Boards: Burma Teak Veneer / Ply, Gordon Veneer / Ply, MDF OAK Veneer Board, White Plain Partex Board, PVC Board, Marin Ply
Wood: Burma Teak Wood, Gordon Wood, Chittagong Teak Wood.
Flooring: China/ Malaysian Tiles, Spanish Tiles, Wooden Flooring
Paints: Plastic Paint, Docu Paint, Lacquer Polish, Enamel Paint.
Lightings: LED Lightings
Glass: China / Belgium origin Glass.
Hardware: China/ Singapore Quality
Electrical Items: China/ Singapore Quality
CALL NOW FOR YOUR DREAM INTO REALITY