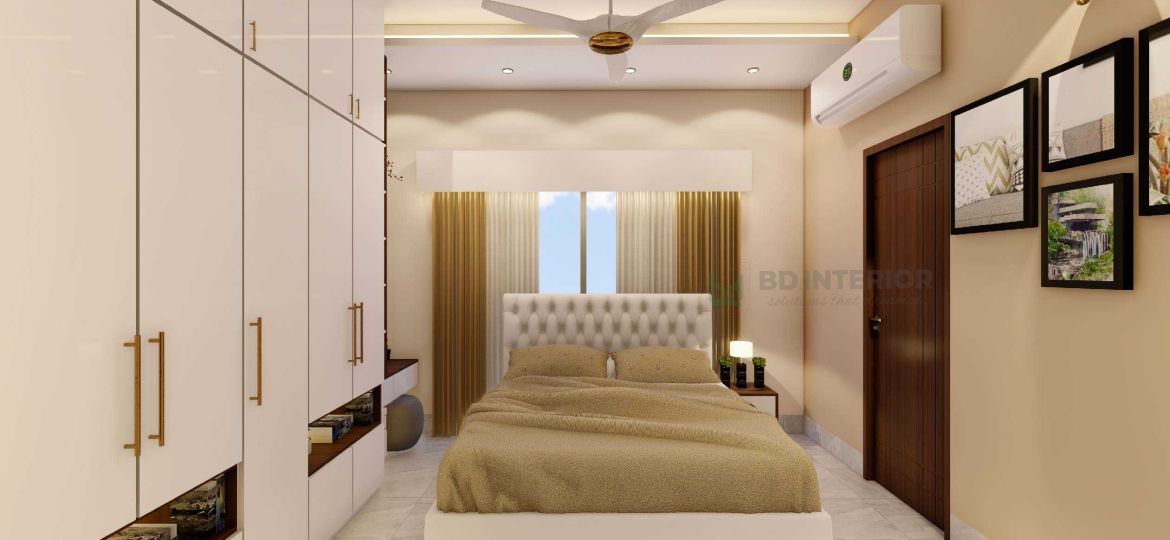 We spend almost one-third of our lives in the bedroom, and the other two third we spend time working, thinking about the welfare of our family. To be honest, the time we spend in the bedroom is the only time we spend with ourselves. So having a perfect bedroom for sound sleep is essential. A sound sleep will boost your performance by almost two times.
For a perfect bedroom interior design, you need to consult with an experienced interior design company. They will help you to achieve your dream bedroom interior design from scratch with their awesome creative interior design ideas.
In this Blog, we will discuss 6 essential steps for bedroom interior design.
1. Measure bedroom area:
Before starting your room interior design, the first and vital stage is measuring your bedroom area. Especially you need to have a proper idea about your existing furniture. Make Sketch your whole room with a pencil and paper. If you are going to meet with an interior designer, by looking up this sketch, they will have a clear idea of your room layout.
2. Proper Lighting:
Proper lighting is very important for your bedroom interior design. While you are going to do the interior design of your house or you are going to renovate your bedroom, you need to be planned the lighting systems individually for day hours and night hours. For Day time, first, try to make a sport where the daylight is coming out if your window is placed in the wrong direction; try to relocate the window, where the natural lights come out the most. And try to position the furniture with reflective materials and a mirror opposite the window. This will help you to brighten your room by its reflective nature if you have a minimum of natural light to deal with. During the night we try to install lamps and lights in a suitable place so that it lights spreads out at every corner of your room.

3. Color Selection:
Color plays a vital role to set your mood. So you need to be careful about your color selection. Color is your personal choice, your personal choice and taste should reflect on your bedroom. But before starting you should know some tips about color selection. Neutral color gives you a fresh vibe in your room; on the other hand, Deep colors like black, and deep blue will create suffocation in your room, if you have limited natural light in the daytime.
4. Choose the floor types:
Just decorating the walls and filling them up with awesome furniture is not good enough for a perfect bedroom design. Choosing the perfect flooring option can make your bedroom feel cozy. You can consider deep pile carpet as a flooring option; it is very comfortable and available in various colors. If you like wooden flooring, you can add a rug for a cozy look.
5. Choose the right furniture:
Furniture is the ornaments of your bedroom. Try to choose minimal furniture and make sure that it is functional and easy to install and easy to use. Using too much furniture is cool, but sometimes it shortens your bedroom space, which creates suffocation in your bedroom.

6. Made a focusing Point:
Every room should have been a focusing part that attracts your guest. In General, the Bed is the focusing part of your bedroom. Try to make a cozy bed using durable material so that it lasts long. Try to décor the wall behind the bed; it can be an architectural piece, an awesome painting, or some family photographs.
I Hope we have discussed some essential points to achieve your dream bedroom interior design. For Your dream bedroom interior design, come directly to the office or contact us on the phone. Upon receiving your call, our skilled team will visit your site and assist in design and costing.
Mobile Number:
+88 01711-208563 (What's App)
+88 01770-336451 (What's App)
Website: https://bdinterior.net/
Email: info@bdinterior.net
Office address:
House: 531 (4th Floor), Road: 12, Baitul Aman Housing Society Ltd, Adabor, Mohammadpur, Dhaka – 1207