Basics of studio apartment interior design
Studio apartments generally consist of less space. Studio apartment commonly has one bathroom, one living room, one or two bedrooms. That means the place is comparatively small. If you have a studio apartment and thinking about interior decoration, there are some tips that I want to share with you.

1. Think creative
When you have less space, you can be creative in your interior decoration. Nowadays, people are getting creative with their interior design. The creative design reflects the modern design. Creativity doesn't mean you have to put much furniture or cover all your space with paneling. A simple design can also be creative.
2. Utilize all the space
The studio apartment has a small space. So, you need to utilize all the space to fit all your necessary belongings in one small place. Use the corners of your apartment effectively. Moreover, use the walls to build a storage facility.
3. Use partition
A studio apartment may consist of one or two rooms. Divide the rooms according to your needs by partitions. This partition can be done with glass, a veneer board, or a wooden door. There are two main benefits of using a partition. One is the space looks bigger and another is you can have dedicated rooms in a small place.
4. Only necessary things
Another important thing is to use only necessary items in a studio apartment. If you put many furniture and many accessories in your studio apartment the interior design will not be attractive. In addition, you will face problems because the space will shrink even more.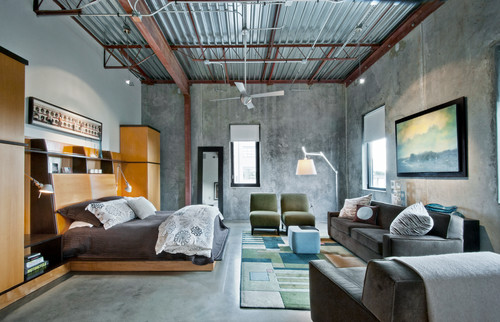 5. Build cabinets
When I say about using the wall, I mean building wall-mounted cabinets for the storage facility. You can also build shelves on the wall to keep your belongings. Almira is another option that you can go for in-studio apartment interior design.

You have little space and less furniture to use. Multifunctional furniture can be an effective idea in studio apartment interior design. Because then you will automatically require less furniture when one furniture can be used differently.
7. Coloring
Right coloring can change the perspective. With the right texture, you can make a studio apartment look big. Color your studio apartment according to your plan and creative thinking. As it is a small space bold colors will be suitable.
8. Glossy things
Another important tip for you when you design studio apartment interiors is to use glossy materials. Reflective materials can give you a compact vibe. In addition, it is also helpful to make the space bigger. Use a bit of glass, glossy tiles on the floors and bathrooms.
9. Lighting
A little bit of lighting is enough for studio apartment interior design. Put some indirect light to give the apartment a modern look. Keep in mind the natural light. Make sure that natural light is available in the apartment. It is very important for a studio apartment.

10. Follow the trend
You should always follow the trend of interior designs to give your apartment a modern look. Nowadays people are moving from contemporary interior to modern. Using modern materials for your apartment interior will enhance the quality and it will be long-lasting.
11. Organize your need
Organizing needs mean designing your interior according to your lifestyle. If you are a student build a study area. If you need to work from home build a workstation. If you have children build a study unit. These are things you need to consider first before going for interior design.

12. Put small sofa
Keep some space for a small sofa. This will enhance your interior design's outlook. A two-seater sofa is the best option for studio apartments. Put the sofa in your bedroom. If you can find a unique designed sofa you will get extra benefit for the interior design.
13. Combine dining room with kitchen
The kitchen is the most important part of your house. Keep your kitchen neat and clean. Build some wall-mounted cabinets and install accessories to enhance the storage facility. In addition, as you have a little space combine the dining room with the kitchen area. Put a small table on one side of the kitchen then you will have a small dining area.
14. Use curtains
Curtains are important for studio apartment interior design. Use curtains on the windows. You also can use curtains for divination. For example, you can use curtains to divide your bedroom and living room. Curtains give a luxurious look to the apartment.

15. Storage under the bed
As I have mentioned earlier, utilize your available space for storage. You can make drawers under your bed to keep your clothing. It helps to keep your bedroom neat and compact.
16. Use high-quality materials
As you have less space use high-quality materials. It is essential for the long-lasting performance of your interior design. High-quality materials enhance the beauty of the overall interior design, and it looks modern.
17. Define your pathway
In your studio apartment identify pathways to comfortably move within your house. Keep clear space for your movement around the house. Plan your pathways before putting the furniture in your studio apartment.
You must be strategic when you design the interior of your studio apartment. Fitting your necessary belongings into one place is quite challenging. But with the right idea and efficiency, you can organize everything within a small space.