18 Amazing interior design ideas for your home
Making your home interior design perfect is quite challenging. It is difficult for you to match all the requirements with your lifestyle. However, remember that your home is one of the precious places, and making it beautiful will enhance your mood. In this blog, I'll give you some amazing interior designs for your home.

1. Match the design with your lifestyle
The first thing you must do before going for home interior design is knowing your lifestyle. Because your home is the place where you will live. So, interior design will have an impact on your day-to-day life. So, design your home interior according to your lifestyle.
2. Use modern materials
Nowadays people are preferring modern materials rather than classic materials. Instead of wood and concrete people are preferring more on steel, board, and glass. If you are willing to give your home a modern look, go for these materials.
3. Entrance
Always remember that first impression counts. Make your entrance attractive with a beautiful door. Do some interior around the space of your door. You can put a nice nameplate beside your front door.

4. Choose color accordingly
Like matching the design, color matching is also important for your home interior design. Choosing the right color is vital. Choose the color of your house according to the theme of the room. Always prefer soft and vibrant colors for your house interior design.
You might wonder what is the necessity of a false ceiling? Well, building some false ceiling will make your place wonderful. Another thing is false ceiling will bring uniqueness to your home. A plain roof will not look good in many places such as the living room, or dining room.
6. Build a showpiece unit
In your living room, you can build a showpiece unit to keep your beautiful showpieces. There are several designs from which you can choose to build a showpiece unit. This is mainly for increasing the beauty of your home's interior design. Build it in a place where everyone can see the showpieces. The living room is the best option for building a showpiece unit.
7. Functional
Suppose you have a great idea about your home interior design. But if it is not functional the whole thing will be a waste. There could be many things that could go wrong in home interior design. Plan your design step by step. Take your time and consult with experts to make the interior design functional. There are several interior companies, which can help you to put up a great interior design for your home.
8. Unique design for your home
Everyone likes uniqueness, when it comes to home decoration people always prefer to make it a unique place. If you have enough budget on you look for unique designs and materials for your home interior design. However, it depends on your taste and perception.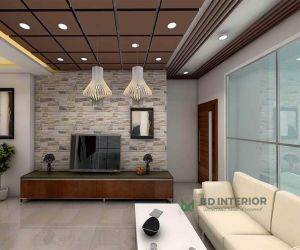 9. Build your storage
Every home requires storage to keep different things. Modern home interior design's storage system focuses on building cabinets and Almira. This is something you can use in your bedrooms and kitchens. In your dining room, you can build a dinner wagon.
10. Focus on furniture
Furniture is the focal point of your home. This should both be functional and matched with the interior design. Well-furnished furniture can change the overall complexion of your home interior. Always use the high quality to build your furniture. Another thing to consider is the layout. Plan the furniture layout in a way that the whole house looks beautiful as well as it is easy to move in the house.
11. Keep it simple
Don't go for too much interior design. Simple interior design is more attractive. Simple home interior design is the new modern concept. Too much design doesn't look good in-home interior design. Just put everything that you need and some decorations to give it a unique look.
12. Decide what to do
Take decisions first before you go for interior design. Make plans about what to include in your interior design. For example, you might need a study unit in your bedroom. Make a list for everything. Take your time to make the plan so that you don't miss anything.
13. Lighting
Nowadays lighting is very important. The flow of natural lighting is vital for your home. For the artificial lights use LED lights and other spotlights to give the interior design a modern look. Always remember that most of your home interior design depends on the lighting.
14. Accessories
When you think about home interior design there are some accessories that you must consider. Especially in your kitchen. You must install some accessories in your kitchen so that you can keep your necessary items such as plates, glass, and other necessary items.
15. Make it glossy
Glossy things make the interior design more attractive. Now, there are some materials by which you can make the interior design shiny. The use of glass increases the overall shininess. In case of color choose docu paint and when it comes to furniture leaker polish is preferable.
16. High-quality materials
Your home is not for just a limited time. Your home interior is also not for a short period. So, use high-grade materials for your home interior design. Unless the interior will look good initially, it will fall apart later.
17. Make it luxurious
If you have enough budget, you make you make your home interior luxurious. Luxurious interior design is comfortable and easy to use. In addition, who doesn't want to live their life luxuriously? Some materials can make your interior luxurious. Like marble, and Italian tiles.
18. Classic tone
Though nowadays modern look in interior design is a growing concept. But you can add classic tone to some parts of your home interior design. For example, add some classic furniture. Some classic art pieces on the walls will add an extra flair to your home interior design.
Always remember that it's your home and you will live in that home. Your home interior design should be according to your lifestyle and taste. Another thing is making your home interior design unique and luxurious.