Inspiring Kitchen interior design ideas for you
The kitchen is one of the main focal points of your house. Perfect kitchen interior design can give you a compact look for your home interior design. Functional materials with modern texture can be an effective way to uplift your kitchen's interior design. Match your kitchen interior with your house design concept.Here is Some inspiring kitchen interior design ideas for you.
Develop your ideas
First, develop your ideas for your kitchen interior design. If you have enough ideas for your kitchen then it will be an easy task for you to design the kitchen interior.
Storage is important
When it comes to the kitchen interior the aspect that you need to consider is the storage system. First, calculate what do you need in the kitchen. In addition, find out how much storage do you need. After that design your storage system whether it is cabinets or shelves.
Keep enough clear space
Before planning your kitchen interior, you need to keep some space clear. It is necessary for your movement. If you keep too much on your design, then you will not be able to work freely in your kitchen.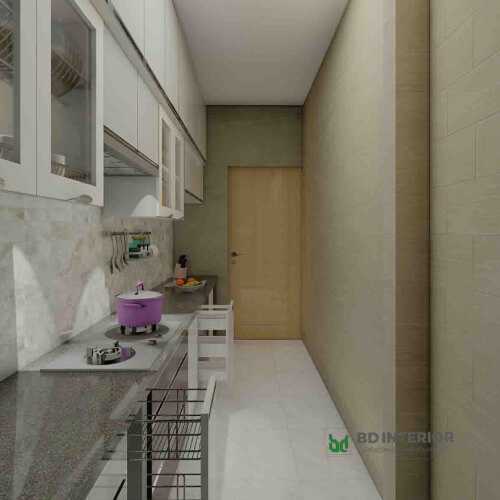 Use accessories
In the kitchen, you will require accessories to keep your necessary items. For example, you will need a waste bin to dispose of the waste. You will also require some accessories to keep the plates and spoons. Install accessories in cabinets and drawers according to your need.
Go for simple
Use simple designs in your kitchen interior design. The simple design helps keep your kitchen neat and clean. In addition, simple design helps to keep the kitchen look big. You will also have enough space for movement.
Install kitchen hood
Modern kitchens have kitchen hoods. The kitchen hood is required to pull out all the heat and pollution from the kitchen. Some modern kitchen hoods enhance the kitchen interior design.
Add texture
Now, there are different textures on which you can work. If you want to give the interior a classic look, go for wooden texture. If you want to give it a modern look, go for a bright and glossy texture. One of the best options for decorating kitchen cabinets is to paste an HPL board. There are various textures available on HPL boards.
Kitchen top
There are several options that you can go in terms of the kitchen top. Your kitchen top should be long-lasting and match the interior. Designers use marble or granite in the kitchen top in modern concept. You can also use tiles to build a kitchen top. Below your kitchen top build cabinets and install accessories.
Hardware
Some materials are specially dedicated to kitchen interior designs only. When it comes to building cabinets, you can choose Gordon veneer board with HPL or acrylic board pasting. It will give you a glossy finish to your interior design.
Adjust countertop
If you have enough space in the kitchen adjust a modern countertop in the kitchen. It is a modern concept. A countertop helps you keep the food you have made. It is an easy concept of attaching a dining space to a kitchen.
Kitchen color
Bright or bold color is the perfect combination for kitchen interior design. You can keep the colors of the cabinets matched with the walls. In another way, you can add different colors to the wall-mounted cabinets and walls. This process will give you variants in terms of colors. Inside the cabinets, you can keep the wooden texture with leaker polish.
Attach fridge and oven
The modern and latest concept of kitchen interior design is including a fridge and oven in the kitchen area. In that case, you have to depend on how much you have available in your kitchen. Keep the oven on one side of the kitchen top. Insert the fridge with the cabinets on the walls if possible.
Focus on the kitchen stove
There are various types of kitchen stoves available in the market. Get a stove that is matched your interior design. There are some electric kitchen stoves available, you can purchase those depending on your budget.
Lighting
You have to keep in mind the lighting. Of course, natural lighting is important. But when it comes to installation of lighting use LED lights. You can add wire lights around the cabinets to give the interior design a luxury look. You can also add bowl lights in the kitchen for a classic look.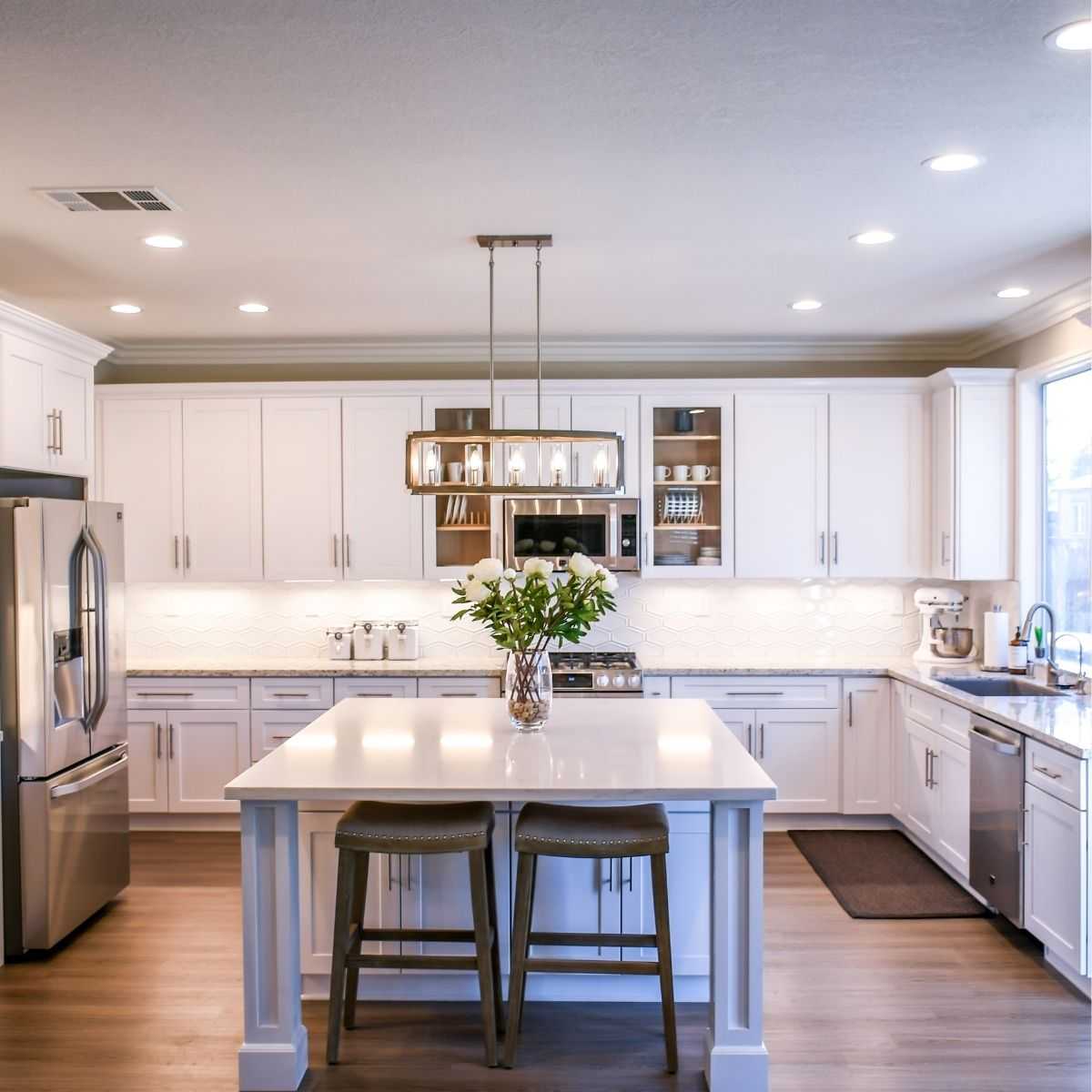 Pasting on the wall
If you have just normal walls in your kitchen, you can add extra flair by pasting HPL boards on the walls. Another idea that can increase the quality of your kitchen's interior designs tiles on the walls. choose a luxurious texture of tiles it will enhance the overall outlook of your kitchen interior.
If you have a below 100 square foot kitchen then it would consider a small kitchen. Nowadays it is common to have a small kitchen in modern apartments. It is quite challenging to decorate the small kitchen with the right functionality.
Use the walls
For a small-sized kitchen, you must use the walls and bottom of your kitchen top to build cabinets for the storage facility. Use drawers on the bottom to increase the storage facility.
Choose bright color
One thing bright color can do is make the place look big. But sometimes it is avoidable in the kitchen. But if you can keep the place neat and clean choose white. Besides, there are multiple bright color options from which you can choose for small kitchen interior design
Use shiny materials
While having a small kitchen you could choose shiny materials for your interior design. A glossy finish will give a compact look to your small kitchen interior design. When you install glossy things, the kitchen will look bigger. It also gives you a modern look.
Use different shapes
By different shapes, I mean Building wall-mounted cabinets. You can either go for "U" shape an "L" shape. "U" shape focuses on Building all the cabinets around the walls, whereas the L shape means buildings cabinets on two walls. Use your ideas on which shape will be perfect for your kitchen.
The kitchen is a part of your apartment where you will spend most of your time. Focus on functionality, building necessary cabinets, decorate with paneling are the main points of kitchen interior design.